My families health is always in my mind. Wondering if we are eating healthy enough on our budget. The answer is usually no. Me and my son love our veggies. We would be vegans if we did not love cheese so much. (The funny thing is we are both lactose intolerant and have IBS with gluten products.) I like to eat as little meat as possible in our diets the problem is I like a few meals that usually call for meat. I love Tamales and burritos. It never dawned on me that they could be tasty without meat. I grew up in a meat loving family. I was a vegetarian for sometime but strayed.
I got to try 4 types of Tamales from CedarLane Natural Foods and guess what? They are meatless! The flavors are:
Chile & Cheese Tamales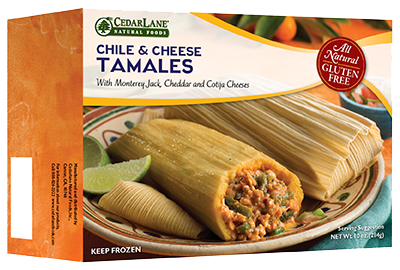 These are packed with roasted poblano peppers, Anaheim chile peppers, jalapenos, serrano peppers and spices mellowed by Monterey Jack, cheddar and cotija cheeses. Gluten-free!
Spinach & Feta Cheese Tamales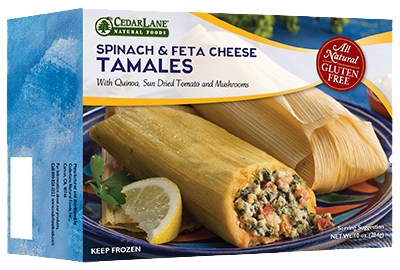 A Mediterranean take on classic tamales flavors, each is packed with spinach, quinoa, sun-dried tomatoes, mushrooms—with nonfat Greek yogurt and feta and ricotta cheeses. Gluten-free!
Sweet Corn Tamales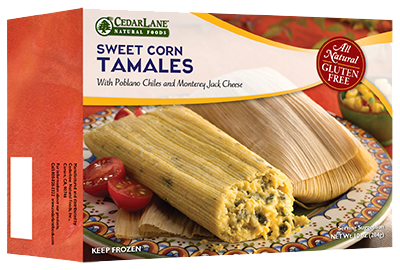 These flavorful tamales showcase sweet corn complimented with zesty roasted poblano and plenty of Monterey Jack cheese. Gluten-free!
Roasted Vegetable Tamales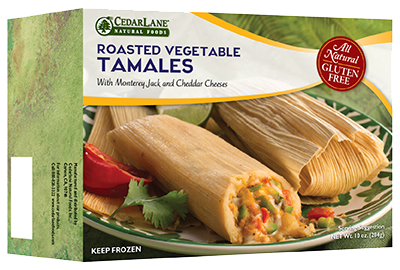 Each of these contain a variety of spices and tasty vegetables: green, red and yellow bell peppers, zucchini, potatoes, carrots, roasted poblano chiles, jalapenos, mushrooms and tomatoes—all combined with Monterey Jack and cheddar cheeses. Gluten-free!
The cheese in these products did not even bother us. That was a surprise to us since we get upset tummies easily. My favorite was between the sweet corn and spinach & feta. They where both delicious but believe me that does not mean I did not like the rest. It only means that my taste buds preferred those two selections.
Sweet Corn surprised me. I do not normally think of my self as someone who loves or nor specially not Cream Sweet corn. This product was so good. The flavors blended perfectly!
My son's favorite was the roasted vegetable. Which is weird because he does not like hot foods.
The Nutritional value of these products are great!
Click here to see nutrition fact
s
.
~~ No Monetary Compensation was received for this review. The opinions are my true heart felt personal opinions and where in no way persuaded. I did receive a free product in exchange for a honest review.